Angkor, sérénité bouddhique | The Serenity of Buddhism
by Marc Riboud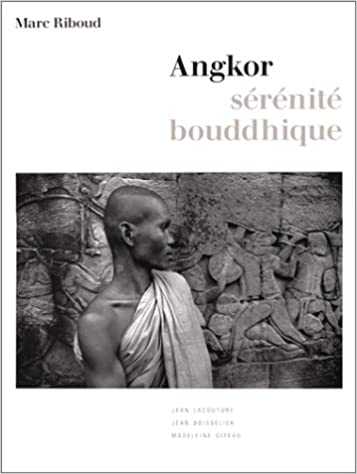 Type: Hardback
Publisher: Actes-Sud/Imprimerie Nationale, France | Thames & Hudson for the English edition (1993)
Published: 1992
Pages: 155
ISBN: 978-2110811547
Language : English
"Stone faces stare at me while monks ignore me", wrote Marc Riboud, renowned photographer; "I like the romantic nature of the forest and roots that spread like a ruthless tide on the fallen temples. There is no other way to describe Ta Prohm and Tà Som, than to see them as submerged cathedrals. You have to wander in this underwater world of hanging lianas and of callous roots that look like octopuses and snakes, immersed in the solitude of time, to understand how a civilization's treasures almost disappeared forever."
An attentive visitor to Angkor no less than five times between 1968 and 1990, Riboud was captivated both by the ancient stones and by the people inhabiting the ruins, vividly expressing the continuity of the Khmer temples as worship and meditation places.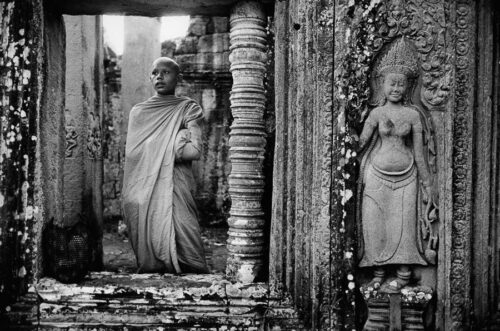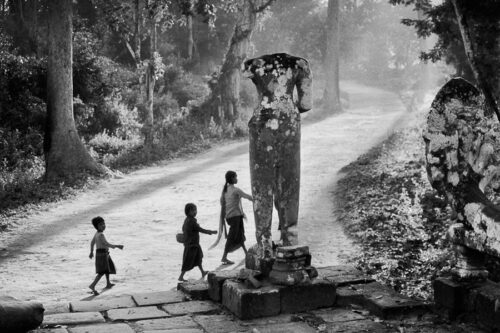 Above: from the photo selection on the website dedicated to Marc Riboud
Watch the 2021 documentary "L'Angkor mystique de Marc Riboud" (by Ruxandra Annonier, ARTE; in French and German)
Texts by Jean Boisselier, Madeleine Giteau, Jean Lacouture and Marc Riboud.
Marc Riboud's background research
Even if the photographer's private library has not been kept as a whole after his death, we know that he looked up the following books -- among other publications -- for his research on Angkor:
Herbert H. Gowen, Histoire de l'Asie (French translation by G. Lepage, Payot, Paris, 1929, 404 p.)
Maurice Glaize, Angkor and Les Monuments du Groupe d'Angkor (J.Maisonneuve, Paris, 1953 and 1963)
George Coedes, Pour mieux comprendre Angkor (Maisonneuve, Paris, 1947)
André Malraux, La Voie Royale (Livre de Poche, Paris)
Jeanne Leuba, Angkor, Guide Parmentier (Albert Portail, Saigon, 1957)
George Groslier, La route du plus fort (Kailash)
George Groslier, Le retour a l'argile (Kailash)
Bernard Philippe Groslier, Indochine: Carrefour des Arts (L'Art dans le monde) (Albin Michel, Paris, 1983)
Malcolm Macdonald, Loke Wan Tho (photographs), Angkor (Jonathan Cape/Donald Moore Books, London, 1965)
Jean Lacouture, Survive le peuple cambodgien! (Seuil, Paris, 1978)
International Council of Museums, One Hundred Missing Objects - Looting in Angkor, Cent Objets Disparus- Pillage a Angkor (ENG-FR, 1993)
(information kindly provided by Lorene Durret, L'Association des Amis de Marc Riboud, France)
Tags: photography, Buddhism, heritage preservation
Marc Riboud
War photo-correspondent and traveling photographer Marc Riboud (24/06/1923, Lyon - 30/08/2016, Paris) is one of the major figures in 20th-century international photography. He joined the prestigious Magnum photo-agency at the invitation of Henri Cartier-Bresson and Robert Capa.
While covering major military conflicts, in particular the Vietnam War and the Algerian Independence War, Marc Riboud was always guided by his visual quest for the "beau visage du monde", to quote Albert Camus, "the world's beautiful face". He liked to quote the definition of a photographer by Walker Evans: a 'joyful sensualist', since the human eye plays with the senses rather than the mind.
Marc Riboud took his first photograph with a camera gifted to him by his father at the French Exposition Universelle in 1937 -- which might explain his later passion for travel and for Asia. After fighting with the French Resistance during World War II, he remained involved in the defence of humanitarian and egalitarian causes.
Capturing the life of monks, pilgrims and villagers in the Angkorian sites during the 1960s, then again in the 1990s, Marc Riboud published the book Angkor, Sérénité bouddhique, with texts by Jean Lacouture, Jean Boisselier and Madeleine Giteau.
See the bio- and bibliographical note by Roland Quilici here (in French).
In May-September 2021, the Paris Musée Guimet (MNAAG) held the first-ever retrospective of Marc Riboud's body-of-work, Histoires Possibles.