Jeanne Leuba
Journalist, writer and poet Jeanne Leuba (8 Nov. 1882, Paris – 24 July 1979, Lettenbach, Austria) depicted in her novels the status of local and expatriate women in colonial Indochina, while getting involved into archaeological and historic research after marrrying EFEO director Henri Parmentier in 1905.
Trained in her youth to become a concert pianist, Jeanne Leuba traveled together with Parmentier to the remotest places around Cambodia and Annam, publishing a book about Angkor as early as 1914, and several studies about the Cham ethnic minority.
Recognized by Louis Malleret as 'one of the two major women colonial writers' about Indochina (with Clotilde Chivas-Baron), she set in Angkor part of the storyline for her highly-praised novel, L'Aile du feu (1922). In 1945, she was detained in the same Japanese concentration camp where famous Khmerologist George Groslier was going to perish. After Parmentier's death in 1949, she decided to remain in Cambodia, working for local French-language newspapers and Phnom-Penh Radio. In 1959, she published in Phnom Penh 'Angkor, Guide Parmentier' (EKLIP Publishers, with photographs by Robert Dalet, Guioneaud and Manikus (EFEO photographers and researchers)). She left Cambodia in 1966, at 84 years of age, settling in Austria until she passed away in 1979.
Bookseller and collector Francois Doré (Librairie du Siam, Bangkok, Thailand), has recovered more than 40 short stories and tales authored by Jeanne Leuba before 1949, including two novels in which the author describes with caustic humor the amorous and sexual dalliances of French expats in the 1930s, Le métis ensorcelé (Saigon, Edition J. Aspar, 1941) and Panique (id,1942).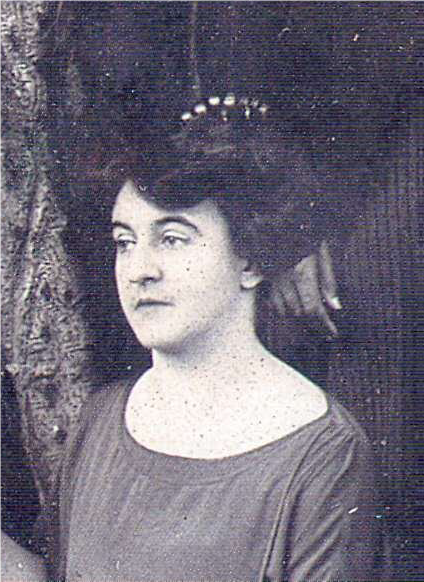 Jeanne Leuba in 1922 in Hanoi (photo coll. Librairie du Siam)
Listed works