George Coedès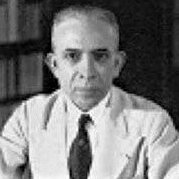 George Cœdès (to be pronounced Zsedes) (10 Aug 1886, Paris, France – 2 Oct 1969, Paris) was a leading archeologist, linguist and historian in the field of Khmer studies.
Director of the National Library of Thailand in 1918, he became director of École française d'Extrême-Orient (EFEO) in 1929, until 1946. In 1935, he married Neang Yao.
A specialist in the history of Indo'Chinese ´Indianized kingdoms´, he wrote The Indianized States of Southeast Asia (1968, 1975, first published in 1948 in French as Les états hindouisés d'Indochine et d'Indonésie) and The Making of South East Asia (1966). He was also a leading researcher in Sanskrit and Old Khmer inscriptions from Cambodia.
Professor George Cœdès is also credited with rediscovering the former kingdom of Srivijaya (modern Palembang), which was influent from Sumatra through to the Malay Peninsula and Java.
Listed works