Elephant train, Phnom Penh to Bangkok in 1871
by Jules Brossard de Corbigny & Jim Mizerski
A picturesque and pertinent travelogue of the 1871 mission set to rescue Cambodian princesses from Bangkok.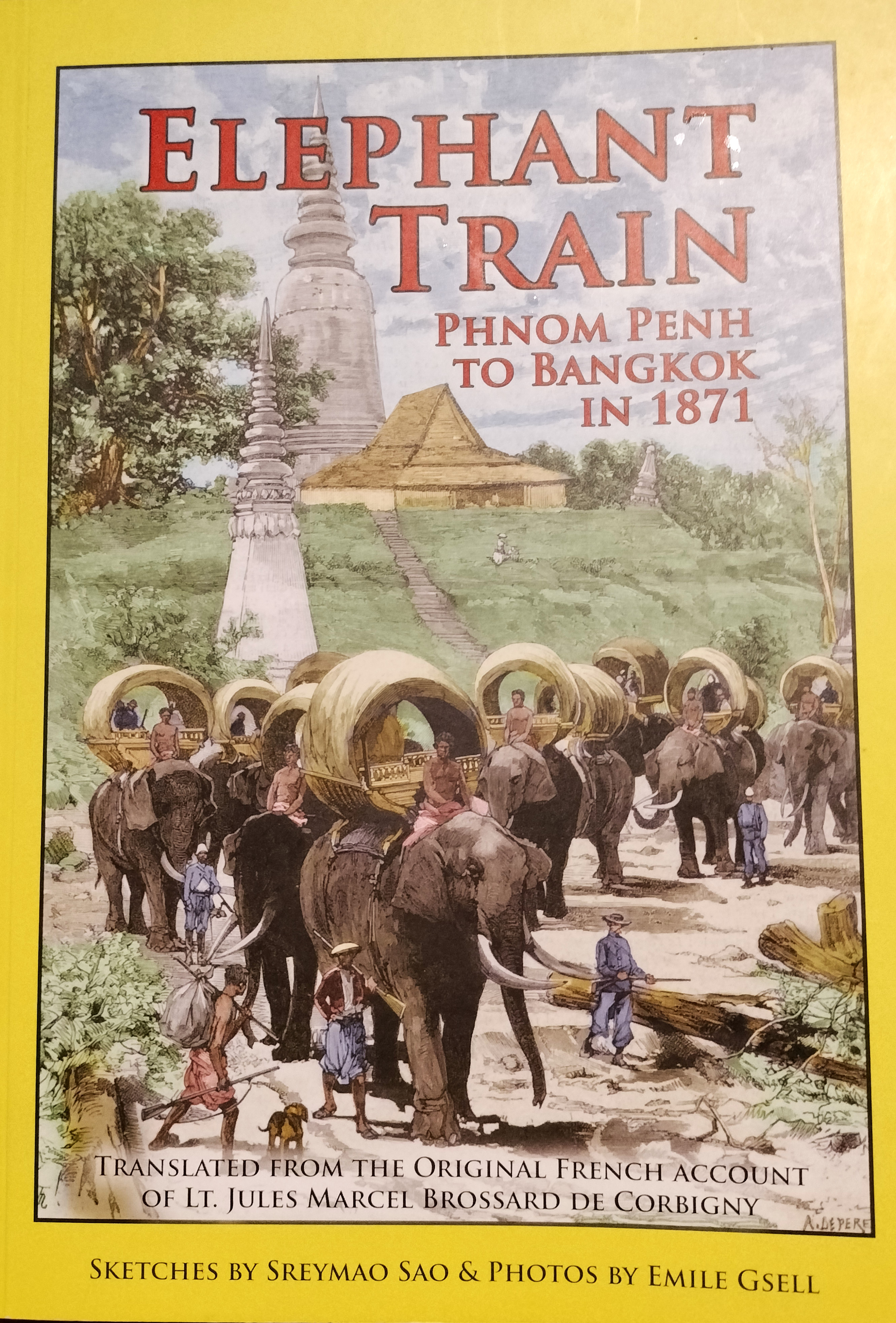 Type: Paperback
Publisher: Jasmine Image Machine
Edition: Jasmine Image Machine, Phnom Penh | Sketches by SAO Sreymao, Photos by Emile Gsell.
Published: 2017
Pages: 136
ISBN: 9789996381928
Languages : English, French
ADB Library Catalog ID: HISTRA1
Représentant (Envoy) of the French Protectorate in Cambodia between March 10, 1870 and November 11, 1871, the young Brossard de Corbigny was a curious mind, acting as explorer, cartographer and hydrographer until he settled down as the French Consul in Bangkok frpm 1872.
His many notations on the flora and fauna of the country, on fishermen and hunters around the Tonle Sap Lake, and the fact that he was often traveling with ultra-perceptive photographer Emile Gsell, would almost lead us to forget that he was actively involvement in the rise of French influence in the area, and in complex diplomatic endeavors that were to facilitate, for instance, the Commercial Agreement between Annam and Siam in 1871.
As for the mission itself that led him to travel from Saigon to Phnom Penh, and then to Bangkok via Pursat and Battambang, he summarizes it as follows in his account: "Samdech Prea Norodom Barom Ream Te Vea Tana Prea Chan Crong Campuchea Ti Bey: these are the names of the current first king of Cambodia. Raised with his family in the court of Siam while his country was a tributary of Bangkok, he later became, as we said, an independent king by the making of France. It was then that he thought to bring back his family members, young princesses that the court of Siam, on the cession of Cambodia, thought it could retain in Bangkok as hostages rather than as relatives of a friend. Various misu nderstandings in negotiations attempted by Norodom to obtain the return of the princesses had until recently left the agencies of his Cambodian majesty without results.
"Finally it was agreed between the two sovereigns that in the dry season of 1871, Norodom would send a large caravan of elephants to Bangkok, led by one of the highest dignitaries of his kingdom, in whose hands the court of Siam would hand over the claimed princesses. This caravan, consisting of eighty animals and more than one hundred mahouts and other people in a row, was to start in the first days of January. It was leaving lightly loaded and under conditions exceptional for Europeans. So we seized the opportunity to join this interesting trip and the unit that comprised it, which without a doubt made it unique in Cambodian history.
"This Asiatic king, who sent a great ambassador to the court of his neighbor, escorting many elephants and demanding young princesses unjustly held hostage, does he not remind us of an entry in some wonderful history so dear to our childhood. Let us, therefore, believe that the oppressed princesses are as beautiful as the day and that the princes of these courses are wonderful and chivalrous, and their ambassadors are laden with precious stones and wonderful talismans. As for us, long accustomed to the realities around us, all illusion is impossible and we only see in this extraordinary mission the facility to cross over an almost unknown country, and to closely observe the customs of the indigenous people and their curious mounts. We remained foreign to the personal goal of the mission, which was entirely the responsibility of the king. We were even obliged several times to inform the surprised people of the strange idea that we had taken part in this peaceful expedition only as travelers, and not to involve ourselves with the delicate issue of oppressed princesses."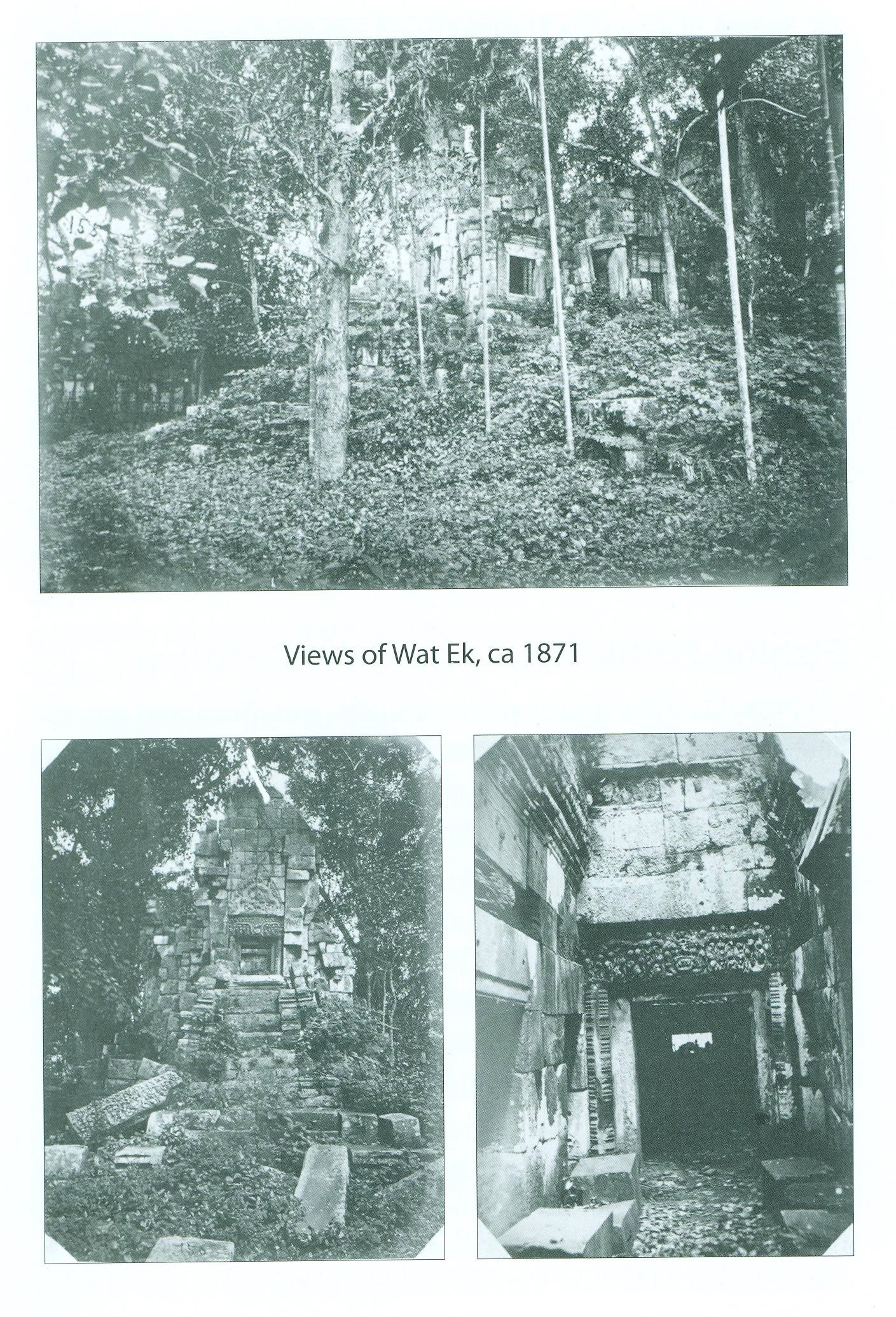 Views of the Wat Ek Temple near Battambang in 1871 (photos by Emile Gsell)
Tags: Tonle Sap Lake, Siam, pre-colonial Cambodia, King Norodom I, women, fishing, elephants, hunting, tigers, French explorers, colonization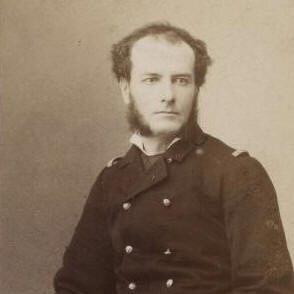 Jules Brossard de Corbigny
Jules Marcel Brossard de Corbigny (14 Apr. 1841, Orléans - 14 Dec. 1934, Meung-sur-Loire, France) was a French Navy officer (lieutenant-de-vaisseau capitaine and contre-amiral) and cartographer, famous for his journey on elephant back from Saigon to Bangkok in Jan-Feb 1871, when King Norodom asked him to escort back to Cambodia the Cambodian royal princesses left at the Court of Siam.
He related his journey across Annam, Cochinchina and Siam in "De Saigon à Bangkok par l'intérieur de l'Indochine, notes de voyage, janvier-février 1871" (Revue maritime et coloniale, 1872, V. 2, p.440-463, p.787-806; V. III, 1872, p.45-74). Jim Mizerski authored an English translation in 2017.

After serving in the Mediterranean Sea and in Africa, de Corbigny volunteered to be transferred to Cochinchina in 1866, where his brother Baron Charles-Paul Brossard de Corbigny (1822-1900) was serving. He acted as Représentant du Protectorat (French Protectorate Representative) in Phnom Penh from March 10 to Nov. 11, 1870, substituting Jean Moura, who had succeeded to Edouard Pottier in this function since 1868.
In 1872, he was named French Consul in Bangkok. In 1874, he took part to the Mission Hué, aiming at establishing a trade treaty with the Kingdom of Annam. He retired from military duties in 1894.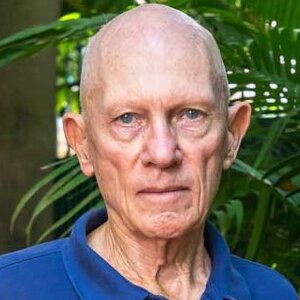 Jim Mizerski
Jim Mizerski (d. 2020) was an American independent researcher, writer and translator who resided in Cambodia in the years 2000s, where he undertook historical research and humanitarian work, in particular with Friends International.
After working as a naval officer and an electrical engineer, Jim took a special interest in photography in 2001 -- when he retired -- which led him to publish Cambodia Captured: Angkor's first photographers in 1860's Colonial intrigues (Jasmine Image Machine, Phnom Penh, 2016), centering on the photorgaphic work of John Thomson and Emile Gsell in Angkor in the 1860s, and to coauthor with Joel Montague John Thomson : the early years - in search of the Orient (White Lotus, Bangkok, 2014).
He also authored the book Finale : the royal cremations of Norodom and Norodom Sihanouk, King of Cambodia (Jasmine Image Machine, 2013). Noticing that too many reference works on the history of Cambodia remained available only in French, Jim Mizerski decided to translate from French into English Etienne Aymonier's Notes sur le Cambodge (with Marie Helene Arnault and Joel Montague, DatAsia, 2016), Jules Brossard de Corbigny's 1872 travelogue (2017), and Vorvong and Saurivong: a Cambodian tale (with Marie Helene Arnault and Joel Montague), DatAsia, 2019.