Kunthea Chhom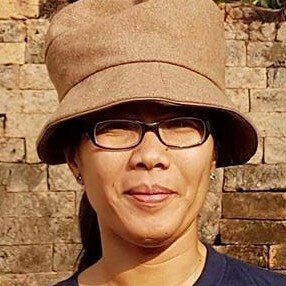 Epigraphist Chhom Kunthea became the first Cambodia-born Sanskritist at international academic level after presenting her doctoral thesis at Ecole Pratique des Hautes Etudes (Paris) in 2016. She started to specialize in Sanskrit and epigraphy thanks to her BA tutor, the linguist Dr. Sylvain Vogel.
An alumna of Royal University of Fine Arts with various scholarship assignements in India, and a former student under the guidance of linguist Saveros Pou, Kunthea Chhom has been working for the Apsara Authority since 2008, specializing in deciphering stone inscriptions from the ancient Khmer Empire. Her research focuses mainly on the development of Old Khmer language which was in close contact with Sanskrit from the 6th to the 14th century CE.
Besides her epigraphical research, she teaches Sanskrit grammar and Sanskrit inscriptions from Ancient Cambodia at the Faculty of Archaeology, University of Fine Arts, Phnom Penh. A founding member of the DHARMA Project, Kunthea Chhom has also headed the Preah Norodom Sihanouk-Angkor Museum in Siem Reap, a joint establishment between Apsara Authority and Sophia University (Tokyo) opened in 2008.
Read Kunthea Chhom's autobiographical essayin the IIAS Newsletter (vol. 81, Autumn 2018)
Listed works