Andy Brouwer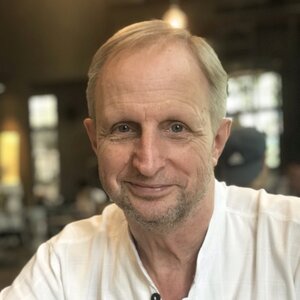 Cheltenham-born and bred, Andy Brouwer (1959, UK) made his first trip to Cambodia in 1994, and that white-knuckle ride hooked him for life. He upped sticks to Phnom Penh in 2007 after more than thirty years in banking back in the UK to join Hanuman Films.
As well as having a serious obsession in temples, books -- he's the editor of the guidebook To Cambodia With Love --, and pretty much all things Khmer, he is a lifetime supporter of Leeds United and has an insatiable passion for the music of Steel Pulse and Ennio Morricone. His website relives his numerous visits to Cambodia, and more.
During his time living in Cambodia, he's been a producer and researcher for Hanuman Films, a product manager at Hanuman Travel, and the media officer with Phnom Penh Crown FC. Since 2020, he developed a personal research, Exploring Khmer Art Worldwide, published as an ongoing series on his Facebook page, that will be soon hosted on Angkor Database.
Listed works